Sodikart launches a new website, a professional showcase of our activities redesigned for easy access to all the information and to be in harmony with our image, namely high-quality, modern and dynamic
Fully designed in-house, the new website has a responsive architecture (the interface automatically adapts to any device - mobile, tablet or computer), modern graphics, intuitive and user-friendly navigation, and it features helpful tools and an extranet: everything is designed for fast and easy access to information and centralized documents.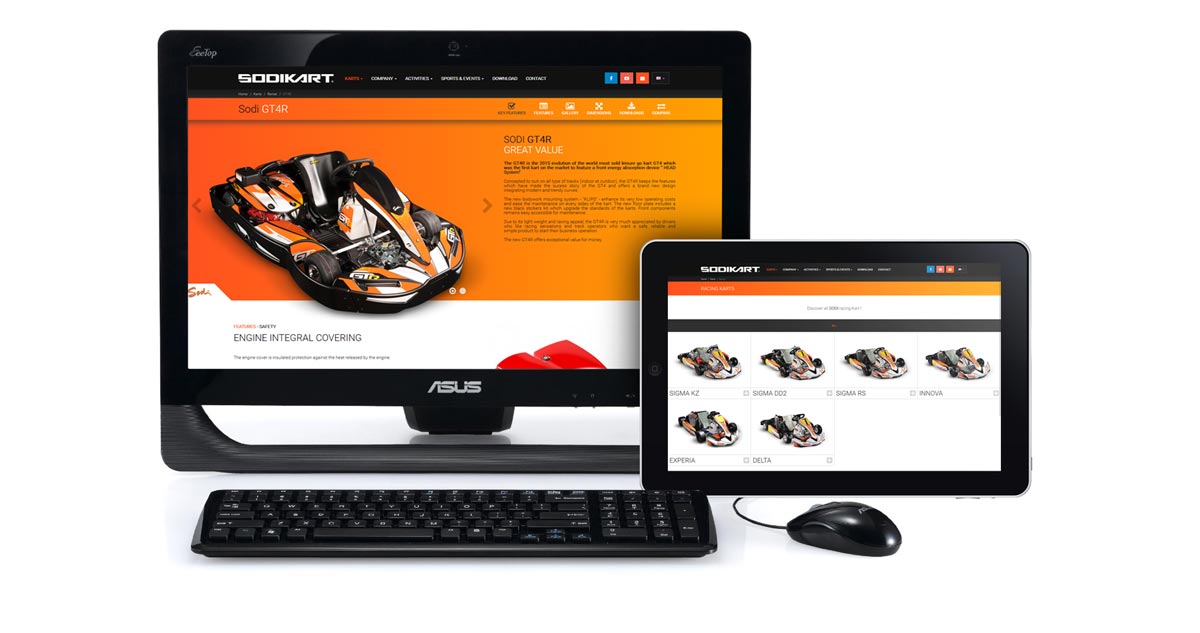 A modern and comprehensive presentation of the products
Since a picture is worth a thousand words, Sodikart has opted for a more visual presentation of our products. Each kart now has a page presenting the technical and technological features available, illustrated in 3D images.
In addition to the technical features, each kart of course has a written description, a photo gallery and information on the dimensions and weight.
New: visitors can download HD photos and documentation for the models.
Comparator
Customers can use the new kart comparison tool to quickly compare up to 3 models (mainly "Rental"). This tool compares the features and options of each kart so customers can easily see the differences between the models in the range.
The Sodikart network
The Sodikart network covers 85 countries to date. In Racing or Rental, customers must be able to find a dealer quickly and easily. Customers can now find the contact information and send a message directly to dealers using the "Network" map. In this way, dealers also benefit from the strength of the new sodikart.com website.
A detailed presentation
Sodikart is the world leader in the karting industry and offers a unique range of products and services. The new sodikart.com website makes it easier to understand our many different activities.
Download Area
To facilitate access to information and graphics, the sodikart.com website has a free download area providing public access to:
HD photos (models and events)
Logos
Brochures
Press releases
Documentation and technical information about Racing
Security Features
...

A convenient extranet
The new website now has an Extranet that facilitates interactions between Sodikart customers, dealers, importers and employees.
This customized extranet - with limited access per level - features all the company's technical documents (technical manuals, exploded views, etc.).
Sales reps and importers also have a special platform where they can correspond with the service department, find out about product developments and manage ads for second-hand karts.

The website is now available in 6 languages - French, English, German, Spanish, Italian and Russian. The Chinese version will be available soon.
We hope you enjoy our new website. Thanks for visiting!